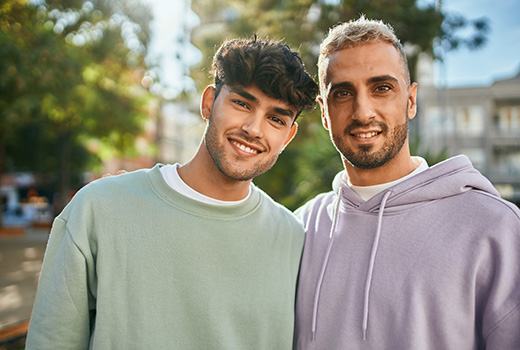 A successful treatment cycle for gay male couples and LGBTQ+ men depends on several factors, including the health and fertility of the patient(s), egg donor, and gestational surrogate, as well as the expertise of the fertility specialist and IVF laboratory. As a first step, scheduling a semen analysis to have your sperm evaluated is highly recommended in order to rule out any medical issues or male-factor infertility. Having your sperm evaluated can sometimes influence which partner will be genetically involved in the IVF process.
Fertility Care for LGBTQ+ Men and Gay Male Couples
We offer a wide range of fertility care services to help LGBTQ+ men and gay couples achieve their family-building goals.
In Vitro Fertilization (IVF)

IVF is the leading standard of care for LGBTQ+ family-building; it involves combining sperm with donor eggs in an IVF laboratory setting to create one or multiple embryos. A healthy embryo is then transferred to the uterus of a gestational surrogate for implantation. The sperm used in IVF can come from either or both partners, or a donor if needed.

Split Cycle for Two Sperm Providers

If both you and your partner wish to be genetic parents, RMA of New York – Long Island offers what's known as a split IVF cycle. Instead of using sperm from only one partner, your collection of donor eggs is divided into two groups; one group of eggs is fertilized using your sperm, while the other is fertilized using your partner's sperm.

Egg Donation for Gay Male Couples and LGBTQ+ Men

Gay male couples and LGBTQ+ men typically need eggs from an egg donor in order to conceive. Some aspiring parents choose to ask a friend or relative to be their egg donor, while others choose an anonymous donor from our database of pre-screened candidates, while others choose to use an egg donor bank or agency. The egg donor undergoes ovarian stimulation to produce multiple eggs. The eggs are retrieved and mixed with sperm from the intended father. A healthy embryo is then transferred into the uterus of a gestational surrogate.

Gestational Surrogacy for Gay Male Couples and LGBTQ+ Men

A gestational surrogate is someone with a uterus who carries a pregnancy and delivers a baby for someone else. A gestational surrogate does not share a maternal genetic connection with the baby she carries. While some patients ask someone that they know to be their surrogate, most find their surrogate through an agency. The third-party reproduction team at RMA of New York – Long Island can help you connect with an accredited surrogacy agency. We will also manage all medical aspects of the treatment cycle process, including eligibility screening.
World-Renowned Fertility Team
Redefining Patient-Centric Care
Meet the Team
Why RMA of New York – Long Island: Gay Family-Building
Since 1988, RMA of New York – Long Island has provided fertility patients throughout Nassau and Suffolk Counties with advanced, high-level fertility care, including gay family-building and fertility care services. Our unique approach to infertility care is firmly rooted in creating an individualized experience for each patient, using the safest and most effective technologies available, all with the convenience of being a local, neighborhood practice. When you walk into one of our fertility clinics, you can expect to work with a compassionate team that is dedicated to guiding you along your family-building path.
Visit us at one of our six convenient locations on Long Island, or request a consultation and take the first step toward growing your family.
Get Started
It's never too early to learn about your fertility and reproductive options.
Have questions? We can help.
Patient-centric reproductive medicine is our specialty, and we look forward to answering any questions you may have.