Egg Freezing
Thanks to the latest cryopreservation technologies, patients now have the opportunity to preserve eggs at their current fertility level until ready to conceive. A woman's advancing age can significantly impact egg quantity and quality, as well as pregnancy success. Freezing eggs now essentially pauses the biological clock, allowing you to utilize eggs at their current higher quality and fertility level well into the future.
The chances of having a greater number of high-quality, chromosomally-normal eggs are much higher before the age of 30. From ages 30 to 35, the quantity and quality of your eggs typically begin to decline, with a significant drop occurring after the age of 35. It is still possible to freeze your eggs after the age of 37, however, it may require more cycles to retrieve the recommended number of mature eggs. Every patient is unique, so the best first step is to schedule a consultation to meet with one of our expert fertility physicians to have your fertility tested and discuss the best treatment options for your unique needs.
Sperm Banking
Fertility preservation is becoming increasingly popular among patients who wish to freeze and store their sperm for future use. The most common reasons for patients to pursue sperm banking include:
Prior to cancer treatment
Before spinal cord procedures
Autoimmune diseases
Fertility-reducing medications
Being an active member of the military
Having a high-risk occupation
Gender transition surgery
Vasectomy surgery
Advancing age
Embryo Freezing
While egg freezing and sperm banking involve the cryopreservation of an individual's gametes, embryo freezing is the process of cryopreserving an embryo created from eggs and sperm via in vitro fertilization (IVF). This is commonly done by individuals and couples who have extra embryos after undergoing a cycle of IVF, though it can also be done specifically to preserve embryos for future use. In either scenario, frozen embryos may also be screened for genetic and chromosomal abnormalities via preimplantation genetic testing (PGT).
The Fertility Preservation Process
RMA of New York – Long Island is proud to offer advanced treatment plans for individuals who choose to freeze their eggs, sperm, or embryos. The first step is to have fertility testing and a consultation with one of our specialists who will guide you through a customized treatment plan. Our experienced financial counselors are also available to discuss affordable treatment solutions.
Whether you're freezing eggs, sperm, or embryos, the cryopreservation process is similar. Using a flash-freezing technique known as vitrification, your genetic material is safely frozen and stored in our Melville, NY facility, ready to be thawed when needed. The main difference between these three forms of fertility preservation is what happens before freezing.
In egg freezing, patients first self-administer fertility drugs to help stimulate the ovaries to produce more mature eggs than they would during an unstimulated cycle. The eggs are then retrieved from the ovaries and frozen.
In sperm freezing, the patient provides a semen sample, either through self-procurement or testicular sperm aspiration or extraction. The semen sample is condensed into a highly concentrated solution and frozen.
In embryo freezing, eggs are fertilized with sperm via IVF in the embryology laboratory and then frozen.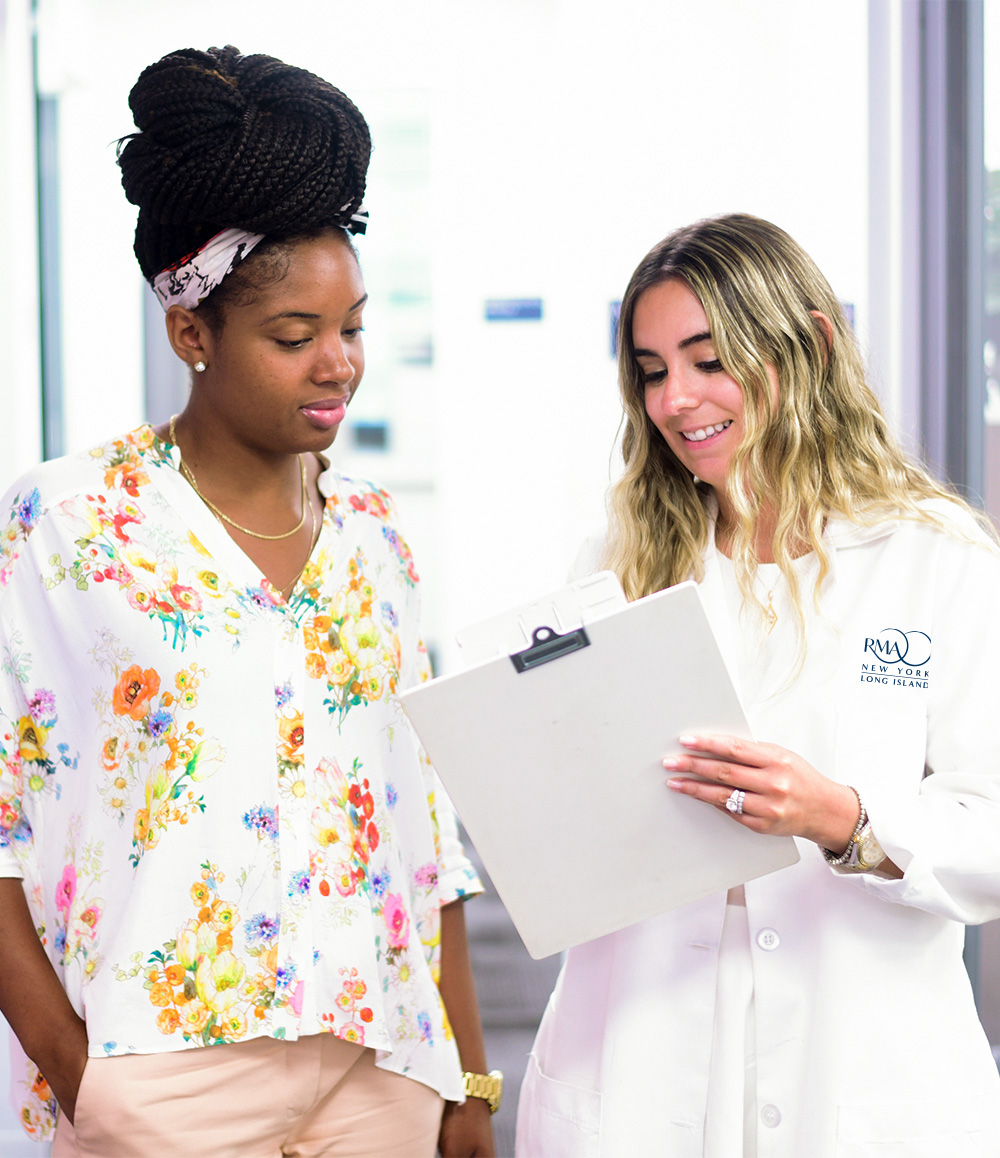 Why RMA of New York – Long Island: Fertility Preservation
Since 1988, RMA of New York – Long Island has provided fertility patients throughout Nassau and Suffolk Counties with advanced, high-level fertility care, including all forms of fertility preservation. Our unique approach to infertility care is firmly rooted in creating an individualized experience for each patient, using the safest and most effective technologies available, all with the convenience of being a local, neighborhood practice. When you walk into one of our fertility clinics, you can expect to work with a compassionate team that is dedicated to guiding you along your family-building path.
Visit us at one of our six convenient locations on Long Island, or request a consultation and take the first step towards growing your family.
Get Started
It's never too early to learn about your fertility and reproductive options.
Have questions? We can help.
Patient-centric reproductive medicine is our specialty, and we look forward to answering any questions you may have.