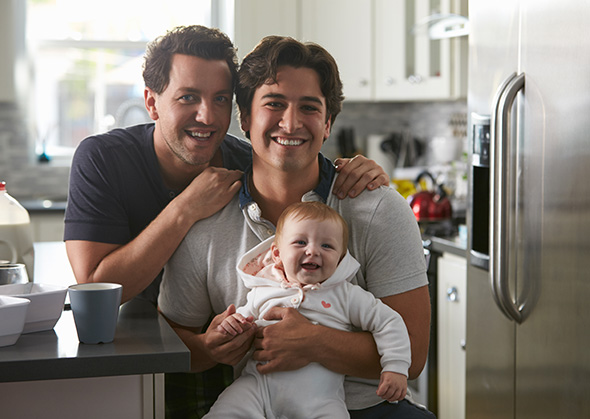 Before initiating a gestational surrogacy cycle, intended parents and surrogates must undergo medical and psychological counseling, and must obtain legal counsel, in order to protect the interests of all parties. At RMA of New York – Long Island, our physicians will not only determine whether or not a gestational surrogate is clinically indicated but also advise and guide you on how to proceed with the next steps.
When Is Gestational Surrogacy Recommended?
Gestational surrogacy helps many different types of individuals and couples achieve their dreams of having a family. Some of the most common reasons to use a gestational surrogate include:
The patient has a history of reproductive health disorders, such as recurrent miscarriages
The patient has other uterine factors that prevent them from safely and successfully carrying a pregnancy, such as fibroids, severe scar tissue, diethylstilbestrol (DES) exposure, or congenital anomalies that cannot be corrected surgically corrected
The patient has had their uterus removed but retains one or both ovaries
Single individuals who cannot carry a pregnancy
Same-sex male couples using an egg donor
Serious medical conditions in which a pregnancy would put the mother's health at significant risk
Some patients choose to have a relative or friend serve as the gestational surrogate, however, most use the services of a surrogacy agency to find a surrogate. Gestational surrogates are typically compensated for their time and effort.
Gestational Surrogacy in New York
Gestational surrogacy became officially legal in New York State in 2021, with the implementation of the Child-Parent Security Act. The law provides a straightforward path for intended parents to establish parentage in surrogacy arrangements, provides protections for LGBTQIA+ family-building in New York, and makes specific stipulations regarding the rights of gestational surrogates. New York is now home to some of the most progressive surrogacy and LGBTQIA+ family-building legislation in the nation.
The Gestational Surrogacy Program at RMA of New York – Long Island
Although RMA of New York – Long Island does not play a role in the matching, financial, and legal processes of surrogacy, we handle the entire medical aspect of surrogacy, from start to finish. We also provide our patients with a vast range of resources, advice, and guidance to help them navigate all other aspects of the surrogacy process.
Agency Selection

Our team will refer you to a list of surrogacy agencies to choose from. Surrogacy agencies are responsible for finding potential surrogates and conducting comprehensive evaluations of their physical health (including general medical and reproductive health history), mental health, and background (e.g. home visits, criminal background check, financial check, etc.). While every agency's approach is different, their main goal is to get to know you, your situation, and your values so that they can identify a compatible surrogate.

Once you've picked a surrogacy agency and connected with them directly, the agency will provide you with profiles of their available surrogates, as well as referrals to reproductive law attorneys for legal representation. They will review the details of your case and write up a contract that takes into account your unique scenario. They will also manage all financial aspects of the surrogacy process.

Surrogate Selection

Before becoming surrogates, candidates must have certain qualifications in order to be considered. Surrogacy agencies may have slightly different requirements, but for the most part, the requirements are very similar regardless of which agency you work with. Requirements to become a surrogate typically include:

Having given birth to at least one biological child without complications
Being between the ages of 21-45
Having a healthy BMI (generally, no higher than 35)
Being a non-smoker
Having a stable home environment and support system

Even if you choose to work with a surrogate who you know personally, the surrogate must still fulfill these qualifications, as they ensure the physical, emotional, and mental wellness of everyone involved.

The Surrogacy Contract

The surrogacy contract must be finalized and signed by both the intended parent(s) and the surrogate before starting any medical procedures. This legally-binding contract ensures that the rights, responsibilities, and interests of all parties are clearly defined and protected throughout the surrogacy process. This includes details such as surrogate compensation, liabilities, responsibilities of the surrogate during pregnancy, conditions for pregnancy reduction or termination, and a list of people who are allowed to attend appointments and the birth.

Surrogate Screening

After the contract has been finalized and signed by all parties, the surrogate undergoes a thorough screening to make sure that they are able to go through the surrogacy process. If applicable, the surrogate's intimate partner will also be screened for certain factors. The screenings performed by RMA of New York – Long Island are all in accordance with the guidelines set forth by the US Food and Drug Administration (FDA) and the American Society for Reproductive Medicine (ASRM). These screenings include:

Testing for infectious diseases in both the surrogate and partner (if applicable)
Urine drug screening for both the surrogate and partner (if applicable)
Physical exam of the surrogate, including a saline sonogram to evaluate the surrogate's uterine cavity and general blood work
Psychological screening

Identify Egg and Sperm Sources

In gestational surrogacy, the eggs and sperm used to produce the embryo are typically provided by the intended parents. However, in some cases, the intended parent(s) may need to also find an egg donor, a sperm donor, or both. Whatever your needs are, it's important to note that gestational surrogates do not donate their own eggs as part of the surrogacy arrangement. Known as traditional surrogacy, the practice of having a gestational surrogate also be the genetic mother of the baby is generally not pursued anymore due to legal and emotional complications.

If your gestational surrogacy journey requires donated eggs or sperm, the team at RMA of New York – Long Island will be there to help you find everything you need to achieve your family-building goals and coordinate all medical aspects of third-party reproduction. We have a database of egg donors to choose from or we can refer you to an outside egg donor agency or bank. We can also refer you to an accredited sperm banking facility.

Preimplantation Genetic Testing of Embryos

When working with a surrogate, we strongly recommend having your embryos undergo preimplantation genetic testing (PGT) before embryo transfer. PGT involves taking a small biopsy of cells from the embryo's outer layer (that later develops into the placenta) to test for genetic and chromosomal abnormalities before being transferred into the uterus. Learn More

Embryo Transfer

Once the surrogate has been medically cleared and the embryos have been tested (if utilizing PGT), the surrogate will be prepped to undergo embryo transfer. This generally involves medications that help prepare the uterus for implantation and pregnancy. Once the uterine lining has reached the optimal state, the embryo that was produced earlier in the process is transferred to the surrogate's uterus for implantation.

Confirming Pregnancy and Post-RMA

One to two weeks after embryo implantation, the surrogate will come to RMA of New York – Long Island to take a pregnancy test. If the surrogacy cycle has been successful and the pregnancy test yields a positive result, our team will continue to administer care to the surrogate for approximately the first nine weeks of pregnancy. This is around the time that the baby's heartbeat can be detected by ultrasound. At this point, RMA of New York – Long Island will transfer the surrogate's prenatal care over to their OB-GYN.
World-Renowned Fertility Team
Redefining Patient-Centric Care
Meet the Team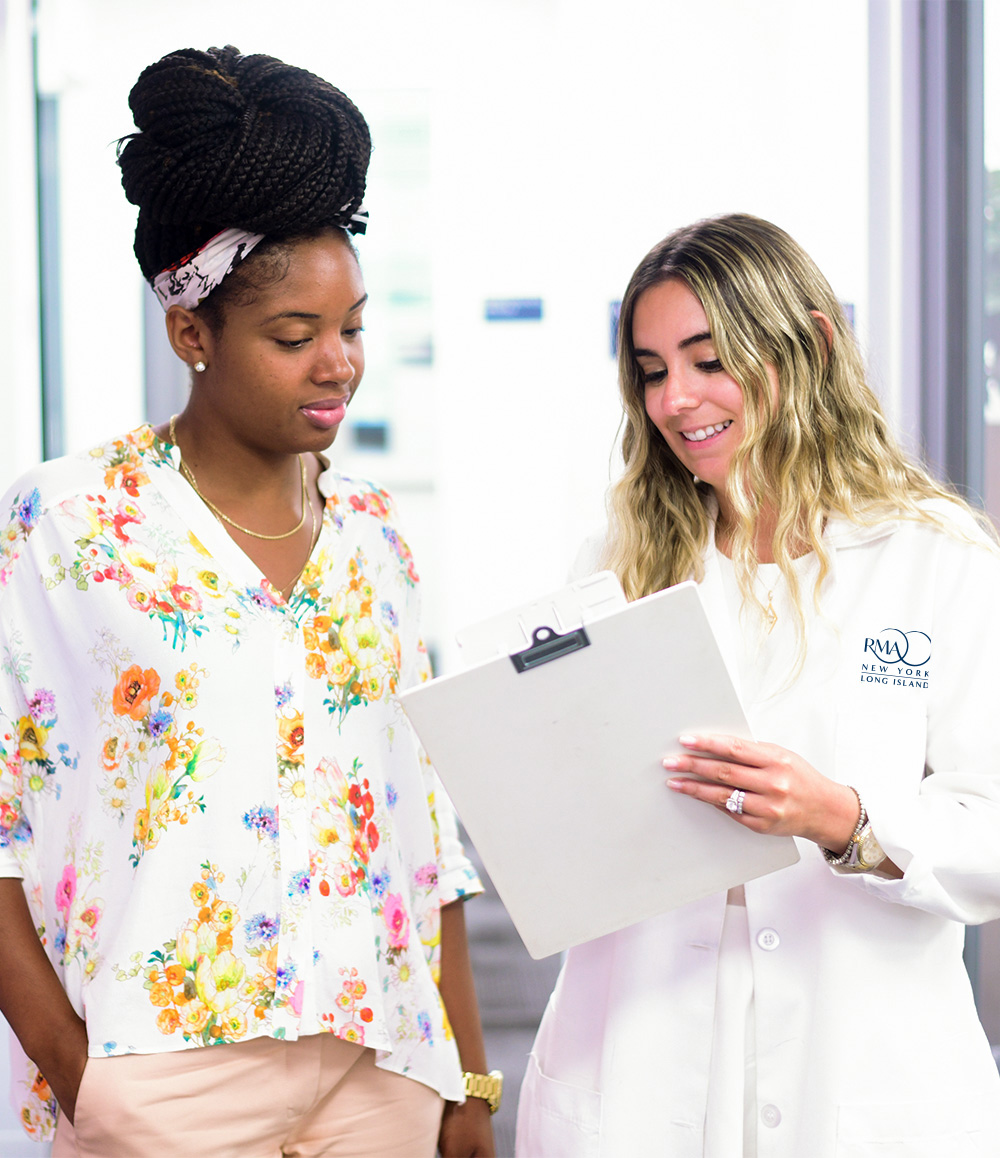 Why RMA of New York – Long Island: Gestational Surrogacy
Since 1988, RMA of New York – Long Island has provided fertility patients throughout Nassau and Suffolk Counties with advanced, high-level fertility care, including gestational surrogacy. Our unique approach to infertility care is firmly rooted in creating an individualized experience for each patient, using the safest and most effective technologies available, all with the convenience of being a local, neighborhood practice. When you walk into one of our fertility clinics, you can expect to work with a compassionate team that is dedicated to guiding you along your family-building path.
Visit us at one of our six convenient locations on Long Island, or request a consultation and take the first step toward growing your family.
Get Started
It's never too early to learn about your fertility and reproductive options.
Have questions? We can help.
Patient-centric reproductive medicine is our specialty, and we look forward to answering any questions you may have.